Unimix Team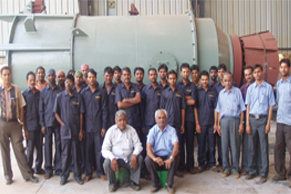 Workforce: Trained and experienced workforce from ITI, NCTVT. Welders are qualified under ASME Section IX for GTAW, SMAW
Production Team: Equipped with knowledge on relevant manufacturing codes and standards. Experienced in production planning and timely execution.
Quality Personnel: İnternal Quality Control team comprising of experienced engineers andqualified NDT personnel.
Welder Qualification Records:
Management:
Co-founder Managing Director
Qualification: BE Mechanical, Gold Medalist Experience:  More than 40 years in Engineering, Design, Production, Marketing A founding pillar of the group, Ramesh Tekchandaney is a true visionary whose commitment to quality is noteworthy. In him, the company has a source of inspiration to consistently upgrade itself and perform beyond expectations. Besides being an outstanding engineer, he is also credited with the meticulous planning of the finances on which the group currently stands. He leads the group's manufacturing division
Co-founder & Director Operations 
Qualification: BE Mechanical, Gold Medalist
Experience: Over 40 years in Engineering, Production, Marketing
A Mechanical Engineer and an entrepreneur with rare vision, it was Bharat Thakker who led the group from its Manufacturing origins into providing Office Automation Solutions to corporate houses, educational institutions, hospitals and government institutions. Under his leadership, the company rapidly diversified into a host of other products and services including Networking, Voice and Data Solutions.
Director Works
Qualification: BE Production, Experience: Over 18 years in Engineering, Production.
Rajendra Prajapati, a Production Engineer by qualification, has offered invaluable support to the Manufacturing Division of Unique. With hard work and commitment, Rajendra Prajapati has risen in stature in the organizational level and now heads the group's Ambernath manufacturing unit.
Director – Marketing & Sales
Qualification: M.S. (Industrial Engineering), BE (Chemical Engineering), Diploma in Business Management
Experience: Over 15 years in Design, Manufacture & Commissioning of Process Equipment
A qualified Engineer, Jayesh Tekchandaney followed his Bachelor's degree in Chemical Engineering with a Master of Science in Industrial & Manufacturing Engineering from The Pennsylvania State University, USA. His experience in Design & Production is an invaluable asset to the Process Equipment division of Unique. Jayesh is also responsible for new product development and is actively engaged in global marketing of Unique products and solutions. He is the author of the chapter titled "Mixers" in a John Wiley publication titled "Process Plant Equipment Operation, Reliability and Control". He is an expert advisor in the field of Industrial Mixing, and has to his credit articles on mixing technology published on Bright Hub. His list of publications include a personal memoir titled "My Notes". Jayesh is also an expert author at Ezine Articles. He is currently working as the Technical Director in an engineering company.